BUILDING A LEGENDARY COMPANY BY DELIVERING ON OUR COMMITMENTS
Founded in 1954 in West Reading, PA, Edwards Business Systems is in its third generation of family leadership. Edwards Business Systems has grown from a mom and pop shop selling and servicing typewriters and adding machines into one of the largest independent office equipment companies in North America. With the acquisition of Virginia Copiers in 1993 – now Virginia Business Systems – the company successfully consolidated and strengthened its Mid-Atlantic focus and identity. Recent acquisitions of The Tamblyn Co. in Scranton/Wilkes-Barre, PA, and Image Tec of Roanoke, VA, bring the total number of locations to 12–one of which is the original location opened by Joseph and Alberta Edwards in 1954. With EBS offices serving the Lehigh Valley, West Reading, Pottstown, Harrisburg, Lancaster, York, Scranton/Wilkes-Barre, the Pocono Region and Lewisburg, Pennsylvania, and VBS serving Richmond, Charlottesville, Lynchburg, Roanoke, New River Valley, Shenandoah Valley and Hampton Roads, Virginia, the company provides service and support to a diverse roster of small, medium, and large-sized businesses throughout Eastern Pennsylvania and Central Virginia.
Virginia Business Systems and Edwards Business Systems have been in business for over 65 years, making it one of the oldest independent dealers in the country. "Growing with our clients for over 65 years" is more than a slogan, it's a commitment. Additionally, Virginia Business Systems is consistently named an "Elite Dealer," a prestigious designation awarded to top dealers as recognized by ENX magazine.
Virginia Business Systems offers technology from some of the best-known names in the office equipment industry, backed by knowledgeable professionals and the latest in digital technology. We pride ourselves in delivering fully integrated work environments to meet the demands of today's businesses with dedicated people, high-performance products, customized solutions, and award-winning service to keep our clients productive and profitable. Advance your business with Fast Forward Document Solutions and satisfying results.
For more information about Virginia Business Systems, and to learn how you can get started today, please contact us!
Our Mission is to do the best for our clients and to completely satisfy them by providing quality business systems and superior services.
To accomplish this, we dedicate ourselves to:
Training our people and providing them with the resources they need to advance their skills and knowledge.

Maintaining an environment that values and encourages personal and professional growth.

Upholding the highest ethical standards in all of our corporate relationships, with our clients and with each other.

Earning a financial return that ensures future growth and long term stability.

Reaching a balance between business and the environment, aspiring to be environmentally conscious and use sustainable principles in all aspects of our business.

And to be contributing members of the communities we serve.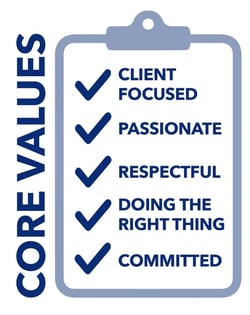 Founded in West Reading, PA and began by selling and servicing typewriters.
Jim Edwards joins his parents in the business and opens the first branch office in Pottstown, PA.
The growing company expands into Pottstown and Allentown, PA.
Edwards Business Systems makes multiple acquisitions to enlarge presence in Lehigh Valley, PA.
New 14,000 sq. ft. Lehigh Valley Office opens in Bethlehem, PA.
First year as a Main Stage sponsor of Musikfest in Bethlehem, PA.
Sponsorship continues today!
Acquisition of Virginia Copiers, now Virginia Business Systems.
Office Dealer Magazine Awards Edwards and Virginia Business Systems with the Elite Dealer Award
Image Tec becomes the Virginia Business, Roanoke Branch
Edwards and Virginia Business Systems awarded the
Ricoh President's Award
Virginia Business Systems moves into the new regional headquarters building in Richmond, VA
Virginia Business Systems acquired Select Office Systems.
Acquired Data Technologies and Apex Office Systems.Xerox names Virginia Business Systems "Highest Growth Partner".
Virginia Business Systems voted one of 2016's Best Places to Work in Virginia
Acquired ImagistixXerox names Virginia Business Systems "Top Revenue Partner".
18th year in a row having earned the Elite Dealer Award.Xerox names Edwards Business Systems and Virginia Business Systems the largest Xerox dealer in the country!